| | | | | |
| --- | --- | --- | --- | --- |
| | | | | Thursday, December 09, 2021 7:46 AM GMT+1 |
Reset Password
Click here to sign up.
Christian Chat Room Topic
2 kidnapped missionaries freed in Haiti, Christian Aid Ministries says - Christian Chat Room
Details
2 kidnapped missionaries freed in Haiti, Christian Aid Ministries says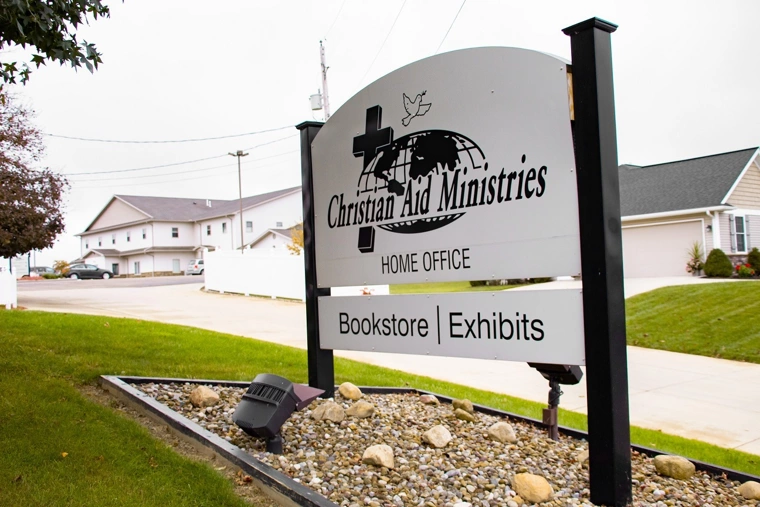 Christian Aid Ministries' headquarters in Ohio. | Christian Aid Ministries

Two of the 17 members of a missionary group — comprising mostly Americans and five children — who were kidnapped in Haiti more than a month ago have been released, says the Ohio-based Christian Aid Ministries, which sent them on the mission trip.

The two who've been freed are "in good spirits, and being cared for," the ministry said in a statement Sunday while withholding their names, current location or the reasons for their release.

"We praise God for this! Only limited information can be provided," CAM continued, requesting that those who might have more specific information about the release to "safeguard that information."

The group of missionaries, including six men, six women and five children, were kidnapped on Oct. 16 by the 400 Mawozo gang, which is demanding a $17 million ransom for their release.

Since the kidnapping of the missionaries, Wilson Joseph, leader of the gang, has threatened to "put a bullet in their heads" if his $17 million ransom demand for their release isn't met.

"We encourage you to continue to pray for the full resolution of this situation," CAM added.

The kidnapped Christians range in age from an 8-month-old baby to a 48 year old.

U.S. National Security Advisor Jake Sullivan previously said President Joe Biden continues to be briefed daily about the kidnapping of the missionaries and noted that he was particularly concerned about the five children in the group.

"I personally give an update on this issue every single day to the president, who is taking a deep interest in making sure we get every single one of those people home safely," Sullivan said.

Joseph, who is believed to be the leader of the 400 Mawozo gang, was the subject of a wanted-poster campaign launched by police last year. Joseph faces charges, including murder, kidnapping, auto theft and hijacking trucks.

Wilson's nickname is "Lanmò Sanjou," which means "death doesn't know which day it's coming."

The gang was also blamed for kidnapping five priests and two nuns earlier this year. They're also responsible for 80% of abductions in the country between June and September, Gédéon Jean, director of the Center for Analysis and Research in Human Rights in Port-au-Prince, told The Washington Post earlier.

The impoverished Caribbean nation is struggling in the social and political aftermath of the assassination of President Jouvenal Moïse in July. And Haiti has yet to recover from a 7.2-magnitude earthquake that killed more than 2,200 people in August.

At least 628 kidnappings have been reported in Haiti since January, data released last month by the Center for Analysis and Research in Human Rights shows. Twenty-nine of those kidnapped have been foreigners.

The Center for Analysis and Research in Human Rights reported that kidnappings have increased 300% between July and September, with over 221 kidnappings during that time.

The U.N.'s Integrated Office in Haiti stated in a February report that there were 234 kidnappings in the previous 12 months, an increase of 200% from the previous year.

Authorities in Haiti reported 1,380 killings in 2020.

Earlier this month, the U.S. State Department urged Americans to "depart Haiti now."

"The Department of State urges U.S. citizens to make plans to depart Haiti now via commercial means. U.S. citizens should carefully consider the risks of traveling to or remaining in Haiti in light of the current security situation and infrastructure challenges," a statement from the U.S. Embassy in Haiti said.

Source
More From Christian Chat Room Archives

Franklin Graham Wins U.K. Discrimination Suit against Town That Banned Bus Ads
Posted on Mon, April 05, 2021 10:49pm


A United Kingdom judge handed evangelist Franklin Graham and his team a major legal victory on Friday, ruling that the town of Blackpool, England, violated their religious liberty when it prohibited them from promoting a 2018 Christian event with bus ads.

In a 35-page decision, Judge Claire...More

Conservatives plan for a new church after United Methodism splits over homosexuality debate
Posted on Sat, April 24, 2021 4:07pm


The United Methodist Church, the third-largest Christian sect in the United States, took another step toward schism over their longstanding debate on LGBT issues when theological conservatives recently unveiled their plan for a new denomination.

Known as the Global Methodist Church, it was the...More

Church of Sweden Goes for Woke, Announces It's a 'Trans' Church
Posted on Wed, May 19, 2021 2:51pm


The largest Christian denomination in Sweden has announced in an open letter that it is "trans."

Summit News reports the Church of Sweden, which is Europe's largest Lutheran denomination, posted the letter titled "Personal Letter to You Who are Trans" on the Västerås diocese's official...More

Twitter Permanently Bans Greg Locke, Pro-Trump, Anti-Vax Pastor
Posted on Wed, September 15, 2021 5:03pm


A pastor known for controversial stands on COVID-19 and the 2020 election has been banned from the social media giant Twitter.

"Twitter just permanently suspended my account. Welcome to America," Greg Locke said in a Facebook message posted Tuesday afternoon (Sept. 14).

Pastor of...More
.
.