| | | | | |
| --- | --- | --- | --- | --- |
| | | | | Tuesday, October 26, 2021 1:11 AM GMT+1 |
Click here to sign up.
General Chat Room Topic
Coach 'Forced' Soccer Player off Team Because She 'Refused to Kneel' for National Anthem, Suit Says - General Chat Room
Details
Coach 'Forced' Soccer Player off Team Because She 'Refused to Kneel' for National Anthem, Suit Says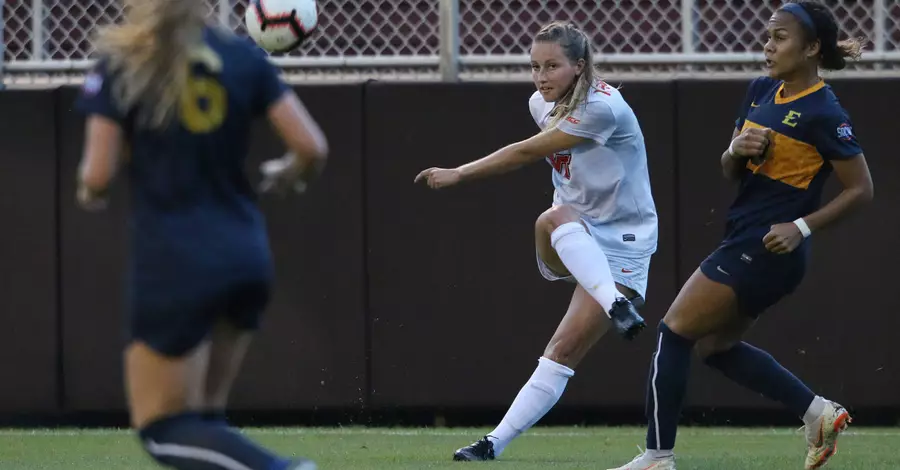 A former Virginia Tech soccer player alleges in a new federal lawsuit that her coach stripped her of her starting position – and eventually "forced her off the team" – because she refused to kneel for the National Anthem.

The lawsuit by former women's soccer player Kiersten Hening alleges that head coach Chugger Adair engaged in a "campaign of abuse and retaliation" against her. News of the lawsuit was first reported by the Richmond Times-Dispatch.

"Hening's stance was costly – too costly," the lawsuit, filed in March, reads. "Her coach dislikes Hening's political views. Because she refused to kneel, he benched her, subjected her to repeated verbal abuse, and forced her off the team."

Hening was a three-year starter, according to the lawsuit, and decided to remain standing "while her teammates took a knee before a game last fall." The suit says kneeling is "loaded with political, social, cultural and symbolic meaning," and argues that her refusal to kneel is protected by the First Amendment. A copy of the lawsuit was obtained by WSET-TV.

"The Constitution gives college students like Hening 'the right to be free from [such] retaliation' for their protected expression," the suit says, quoting an opinion by the U.S. Fourth Circuit Court of Appeals. "... As a result of her coach's actions, Hening can no longer play the game she loves, despite having two more years of NCAA eligibility."

Hening started in her freshman and sophomore seasons, the suit says. Although she "supports social justice and believes that black lives matter, she does not support BLM the organization," the suit says, referencing Black Lives Matter. "She disagrees with its tactics and core tenets of its mission statement, including defunding the police and eliminating the nuclear family."

Hening expressed her opinion to other players. "Someone" then took a screenshot of these messages and shared them with Adair and the coaching staff, the suit says. A "contingency of players," upon seeing the screenshots, demanded that Adair address the "racist" players who did not support Black Lives Matter, according to the suit.

The next day, Adair and the coaches could be heard mocking Hening's views, according to the suit. Later, Adair "berated Hening for her stance," the suit says.

Hening was removed from the starting lineup for the Sept. 17 game against Clemson. Players, parents and fans "expressed confusion" about why Hening had been benched, the suit says.

Adair's berating of Hening continued, the suit noted. The next game, she again did not start and played only five minutes.

The coach's "campaign of abuse and retaliation made conditions for Hening so intolerable that she felt compelled to resign," the suit added. It further says if she "rejoined the team without a court order," the coach's "illegal retaliation would continue."

The suit asks that the court require Adair to reinstate her to the team and order him to "undergo First Amendment training." Further, it asks that a judgment be issued declaring Adair violated her First and Fourteenth Amendment rights. It also seeks unspecified monetary awards.

Source
More From General Chat Room Archives
.
.