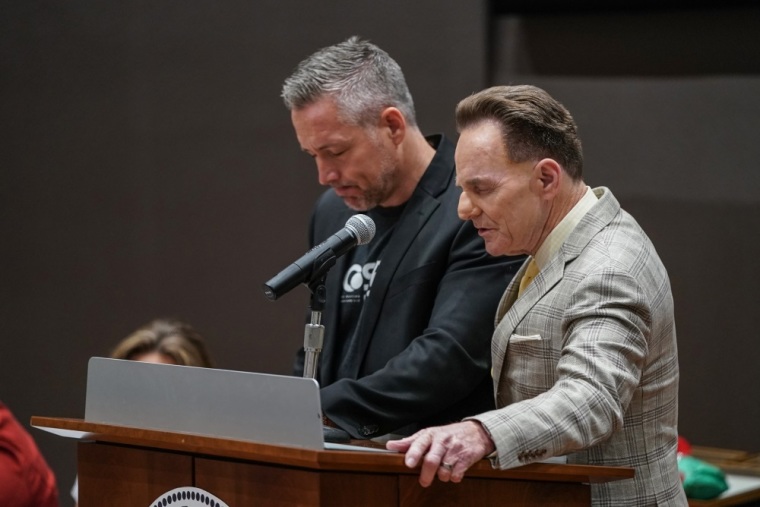 Senior officials of the Southern Baptist Convention reaffirmed the section's disavowal of racial oppression as a "plan of the demon" Wednesday after a questionable call by President Donald Trump to far-right activists to "remain back and hold on" during the presidential discussion on Tuesday.
"When requested to denounce racial domination, each and every one of us ought to be prepared to do as such. Prejudice is, tragically, not terminated, and we know from our Southern Baptist history the impacts of the horrendous sins of bigotry and disdain," SBC President J.D. Greear said on Twitter Wednesday evening.
"We impugn and renounce racial oppression and each type of racial and ethnic scorn as a plan of the villain proposed to carry enduring and division to our general public. We re-insist what Southern Baptists said to this in 2017."
I beg White Evangelical pioneers to make it clear today(even in the event that you intend to decide in favor of President Trump), if you don't mind clarify that you revile White Supremacy and your help for Trump in no shrewd associated with his reluctance to upbraid White Supremacy. Kindly my brethren!
— Dwight McKissic (@pastordmack) September 30, 2020.
Notwithstanding Greear, the announcement was likewise supported by SBC senior officials: Marshal Ausberry, first VP and leader of the National African American Fellowship of the SBC; Noe Garcia, second VP; Ronnie Floyd, leader of the SBC's chief advisory group; John Yeats, chief head of the Missouri Baptist Convention; and Alabama Baptist Kathy Litton, overseer of grower mate improvement at the North American Mission Board.
The SBC proclamation came as conspicuous dark Christian pioneers responded unequivocally to the president's inability to unmistakably criticize the activists during his first presidential discussion with Democratic presidential candidate Joe Biden, and asked evangelicals to make some noise.
During Tuesday's discussion, arbitrator and "Fox News Sunday" anchor Chris Wallace inquired as to whether he was "willing this evening to denounce racial oppressors and state army gatherings and to state that they have to remain down and not add to the brutality in some of these urban communities as we saw in Kenosha and we've found in Portland?"
Trump said "sure" he was "ready to do that," yet noticed that "nearly all that I see is from the left-wing."
Biden at that point referenced the Proud Boys, a far-right gathering drove by Enrique Tarrio who's half dark and half Cuban, while Wallace said racial oppressors.
E. Dewey Smith Jr., chief minister of The House of Hope Atlanta (Greater Travelers Rest) church in Decatur, Georgia, was one of the main unmistakable dark Christian pioneers to respond when he begged evangelicals on Twitter Tuesday night to "state something."
Hours after the fact, on Wednesday morning, noticeable dark SBC Pastor Dwight McKissic repeated Smith's call.
"I beg White Evangelical pioneers to make it clear today(even in the event that you intend to decide in favor of President Trump), if you don't mind clarify that you condemn White Supremacy and your help for Trump in no astute associated with his reluctance to revile White Supremacy. If you don't mind my brethren!" he composed.
Kyle Howard, a minister, scholar and Christian advocate, noted on Twitter: "You all have definitely no clue about what it seems like to watch your leader advise racial oppressors to 'remain back and hold on.' Y'all have no clue about how startling that is, particularly in this time."
The Rev. Mika Edmondson, planting and lead minister of Christ Presbyterian Church in more noteworthy Nashville, said the president's inability to "plainly decry racial domination" during the discussion made his family "less protected."
"Anyway you feel about the President, his strategies, and his aims, his firm refusal to obviously revile racial oppression is profoundly upsetting. His words the previous evening made my family and numerous others less sheltered today," he noted on Twitter.
In his examination of the discussion, The Southern Baptist Theological Seminary President Al Mohler called the president's reaction to the inquiry on racial oppression his "least second" during the discussion and said it was a "bombed opportunity."
"The least second for the officeholder president, Donald Trump, was the point at which he didn't offer a reasonable response when it went to the danger from the political right, from racial oppressors and others in the United States. When called to censure them, the President didn't actually not answer the inquiry, yet he addressed the inquiry so that it was not quite certain or exhaustive. I would score that as a bombed chance," Mohler noted on his digital broadcast, The Briefing.
In his first remark on the discussion Wednesday, Trump said he knew nothing about the Proud Boys.
Trump has upbraided the Ku Klux Klan, neo-Nazis and racial oppressors on a few past events, remembering for 2017, after a self-recognized racial oppressor drove his vehicle into counter-dissenters, murdering one and harming others, at a Unite the Right convention in Charlottesville, Virginia.
Original version -
https://www.christianpost.com...