| | | | | |
| --- | --- | --- | --- | --- |
| | | | | Wednesday, May 18, 2022 6:26 PM GMT+1 |
Reset Password
Click here to sign up.
Trending Topic
Details
Lionel Messi
Lionel Messi's Argentina Team Breaks 28-Year Major Trophy Drought, Beats Brazil 1-0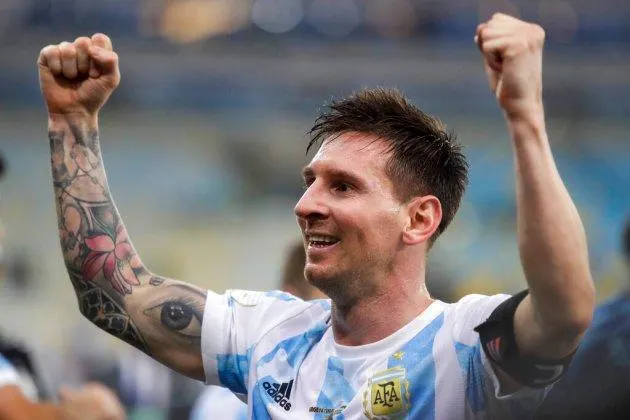 Lionel Messi has finally broken through.

His Argentina team beat Brazil 1-0 at Rio de Janeiro's Maracana Stadium on Sunday at the Copa America, the South American Football Championship. It's the main tournament contested among national teams from South America and the oldest still-running international soccer competition.

Messi had experienced four losses in the finals, and had even retired from the national team at one point. Thus, the victory was sweet redemption for the soccer superstar.

"I needed to remove from myself the thorn of achieving something with the national team," Messi said after celebrating with his teammates. Messi had kneeled on the pitch and covered his face with his hands at the final whistle.

Messi scored four goals and five assists during the tournament. The team captain also broke the team's record for international appearances with 151 matches.

The title also put an end to Argentina's 28-years without a major trophy.

After he lifted the Copa America trophy, Messi spoke to his family on the phone. He flicked the golden medal around his neck and shouted, "I won, I won!"

Source
More From Trending Chat Room Archives

Kim Potter
Posted on Wed, April 14, 2021 1:07pm
Daunte Wright news – latest: Kim Potter charging decision expected after third night of unrest in Minneapolis



Minneapolis faced its third night of civil unrest on Tuesday following the fatal shooting of 20-year-old Daunte Wright by a former police officer during a...More

Arizona Shooting
Posted on Fri, June 18, 2021 1:57pm
One dead, 12 injured including 3 who were shot, during 8 incidents across Arizona's West Valley



One person was shot and killed, three others were shot, and nine others were injured on Thursday across eight separate incidents across Arizona's West Valley, the Peoria...More
.